Paid Content, Native Advertising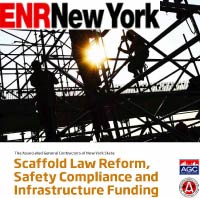 A good story is valuable currency and every organization is sitting on a goldmine. What's your story? Who needs to know? Don't leave it up to the media to decide how your story should be told — tell it yourself. At Scott Capitani Lubertazzo (SCL), we'll write your story and research the placement options that make the most sense. For more information, email or call today: 201-966-8900.
The Associated General Contractors of New York State's special section in ENR New York delivered timely information to the association's target audience, and continues to be a valuable marketing tool.
Advance Your Business with Writing That Gets Results